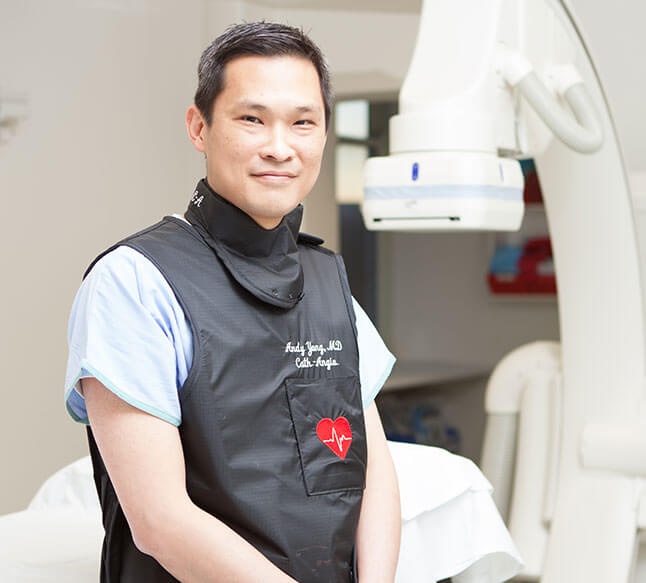 A/Prof Andy Yong
MBBS (Hons 1), PhD, FRACP, FCSANZ, FACC
Interventional Cardiologist
University of Sydney
A/Prof Andy Yong
MBBS (Hons 1), PhD, FRACP, FCSANZ, FACC
Associate Professor Yong is a general and interventional cardiologist who graduated with First Class Honours from the University of Sydney in 2002. He is a Staff Specialist and the Director of Coronary Physiology and Cardiac Measurement at Concord Hospital and Associate Professor of Medicine at the University of Sydney and Macquarie University.
Having completed general cardiology training at Concord Hospital in 2008, he trained as a research and interventional cardiology fellow at Royal Prince Alfred and Concord Hospitals, and was awarded a PhD degree in 2010. Dr Yong subsequently completed a 2 year postdoctoral and clinical interventional cardiology fellowship at Stanford University Medical Centre. He has published over 100 research papers, book chapters and abstracts.
Dr Yong was awarded the Best Year 1 Clinical Tutor prize at the Concord Clinical School (2008), the Concord Hospital Early Career Research Prize (2010), the Dean's Research Prize for Best Postgraduate Publication (2010), and the Peter Bancroft Prize for his PhD Thesis (2011). He has also attracted several scholarships/grants/fellowships including the NHMRC Postgraduate Scholarship (2008), the Pfizer CVL Grant (2010), the NHMRC Overseas Postdoctoral Training Fellowship (2011-2014), the RACP AstraZeneca Fellowship (2012), the National Heart Foundation Future Leader Fellowship (2015-2018), and the RACP Sir Roy McCaughey Fellowship (2015), an ARC linkage grant (2016-2018) and an NHMRC grant (2018-2022).
Dr Yong has served as an invited faculty speaker at various international and national meetings including the American College of Cardiology (USA), Transcatheter Cardiovascular Therapeutics (USA), the Complex Cardiovascular Therapeutics Conference (Japan), the Asian International Cardiovascular Therapeutics (Hong Kong), Cardiac Society of Australia and New Zealand, Australia and New Zealand Endovascular Therapies conferences and the Australian Essential Percutaneous Intervention Course for fellows. He currently serves as member of the Concord Hospital Ethics Scientific Subcommittee and the NHMRC Translational Research Faculty.
He has admitting rights at Concord, Royal Prince Alfred, Macquarie University, Strathfield and Sydney Adventist Private Hospitals. His specific clinical interests include interventional cardiology, coronary heart disease, valvular and structural heart disease, and preventive cardiology.
He is fluent in Mandarin and Cantonese, and speaks conversational Malay/Indonesian.